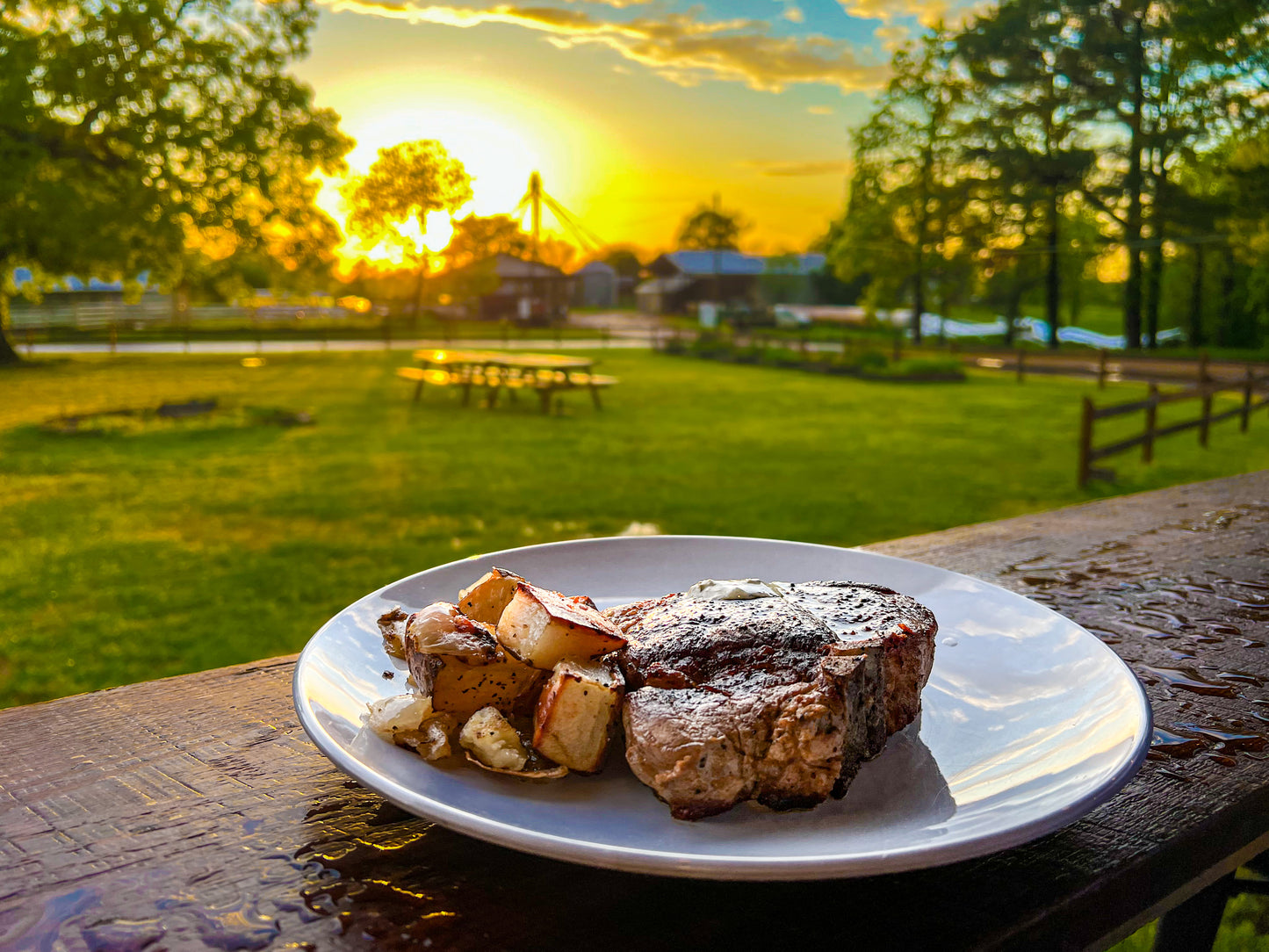 Why Subscribe? 
Home Place Pastures is a mission driven, fifth generation family farm in Como, MS. We use regenerative practices to produce 100% grass fed and finished beef and pasture raised pork. Our farm is a Certified Humane, No Antibiotics Ever program. Subscribing is the single most impactful way to support us and most cost effective and convenient way to get our award winning* products. 
Why is this so important for us?
We run a farm, a USDA processing facility, and a butcher shop/ restaurant on the Home Place. These enterprises support roughly 30 employees and a network of small family farms in the South that produce for us.  When you subscribe you help us plan and coordinate our supply and help balance our sales to match the cuts nature provides from an animal, nose to tail. This is essential for our business to succeed. You are committing at a deeper level, which we do not take lightly.
What is the benefit for you?
Price
We would never claim that our boxes are inexpensive- but we do work hard to minimize the shipping cost and maximize the flexibility for you. The boxes are designed to get you more meat per dollar, without added shipping fees. Most importantly, we offer exclusive add-ons to our subscribers with deep discounts as a member benefit. Box add-on options allow us to offer a wide array of products, curated seasonally to benefit our members. Filet mignon, cured hams, Korean style short ribs, picanhas, coppa chops, osso bucco are just a few examples of the great cuts we exclusively offer to our subscribers.
Convenience
We ship straight to your door with all compostable and recyclable materials, on dry ice. You can log in to your customer portal and update the contents of your box, shop new add-ons, and skip a shipment or adjust your frequency anytime!
Connection
There are a lot of meat subscriptions out there, so why us? First of all, we are not a brand, we are farm, tied to physical place with a long history, clear mission, and standards that you understand and trust. Our customer service is top notch and you can communicate (and visit) directly with the people who are producing your food. Our subscribers are more than just customers, they are our partners in this endeavor to grow and eat better meat. We want you to understand how impactful your investment in the Home Place is and we want you to come visit and enjoy our farm as often as you can.
Membership Benefits
To that end, we offer all subscribers a perpetual 10% discount on all Farm Store purchases (in person at our Farm Store in Como), exclusive offers and discounts on all our farm events, dinners, tours, etc, and discounted rates for lodging on the farm.  Basically you get priority and special pricing for everything we do at the Home Place, because your sustained support through your subscription is so critical to our farm's success!
One-off Purchases
We will of course always offer our animal shares for on-farm pickup, and this is a wonderful way to support us (again, eating nose to tail is critical to our mission), and a great deal if you can commit to a larger volume and pick it up. We will continue to offer a limited number of curated bundles for one off purchases on the site, but the only way to select individual products will be through subscribing, which we hope you will do! 
If you have any other questions or thoughts on this, please reach out! My email is Marshall@homeplacepastures.com.
Thank you!
Marshall
*1st Place Shoulder Memphis in May 2023, 2nd Place Whole Hog Memphis in May 2023, 3rd Place Shoulder Memphis in May 2022, Best Farm in Mississippi Food and Wine 2019, Best Mail Order Gift Food and Wine 2020.